It is hotting hot up
Time for an update, seems a bit of time since I have done so and things have moved on quite a lot with the weather swing from very hot and dry to cooler with some rain. Over all things have not been too bad though and plant growth has been much better now things have warmed up to reasonable levels.
All of last years crops bar the garlic have now been lifted and we had a great harvest of leeks and parsnips to see us through the winter. However it has not all been good news, my over wintered onion sets have been hit hard by Onion White Rot and I have lost approx 50% of the crop: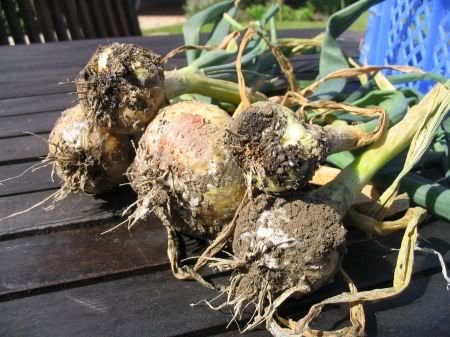 It is also affecting the garlic but not so badly it seems, unlike the rust!!!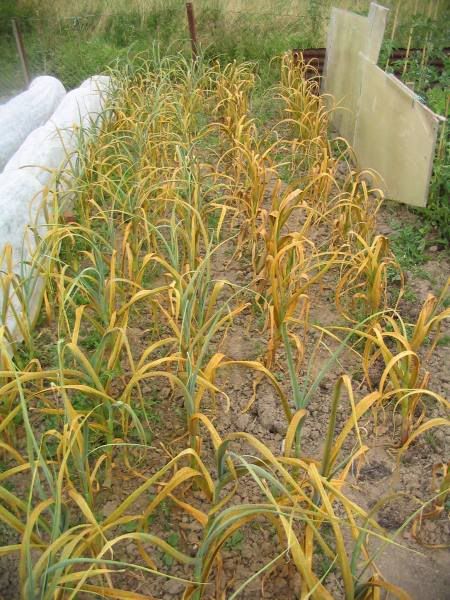 I have dug one clove of Purple Wight and it seems fine so I hope to get to store about 80% of the crop which will see up though to the early part of next year, fingers crossed.
Everything has been moved out of the cold frames now and either been potted on or planted out. Due to having club root on both plots I dare not plant out brassicas until they are very well established with a good robust root system. As such they stay in pots for a little while yet, planting them out in July in the main.
These are a mixture of calabrese, cabbage, sprouts, kale and cauliflowers.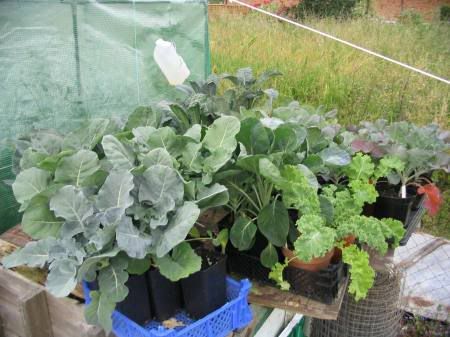 Of course I also over wintered some cauli in the cold frame and these were planted out in the spring, these are just heading up now and will be eaten in the next few weeks: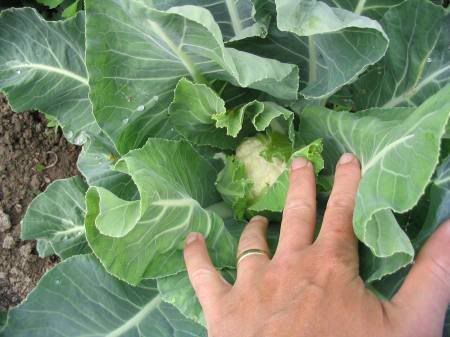 Whilst talking about under cover items the plastic greenhouse is doing it's usual sterling work: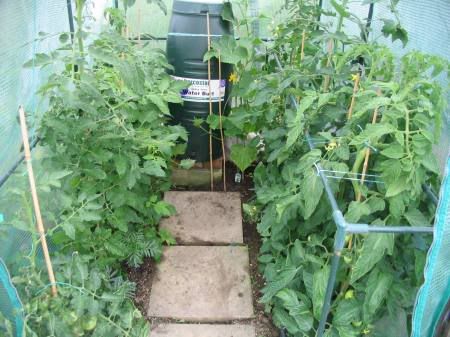 Pot grown spuds that were in the house have been moved outside and also eaten by us, and very nice they were too, this has left room for the Toms.
These are a variety of tomatoes, Marmande, Ferline, Gardeners Delight, Sungold and San Marzona with a couple of cucumbers lurking in there too.
Before these cordon types got too tall I also had tumbler on the shelves but these are now outside and just starting to crop: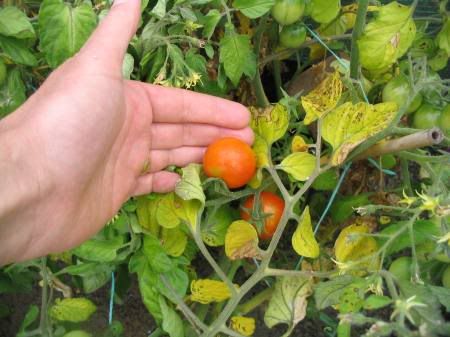 Also during the nights I move Aubergines back under cover so keep them snug: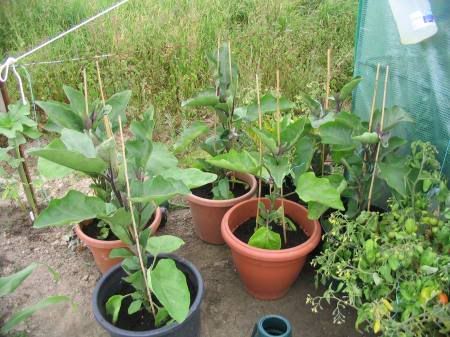 The rest of the toms are outside, mainly San Marzona and Ferline.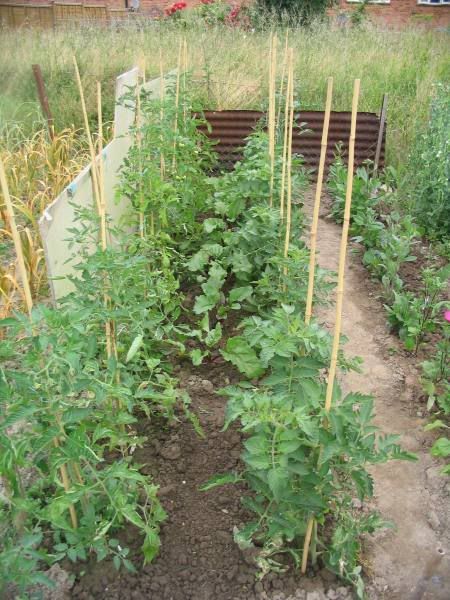 As it has been so windy at times these have been well staked and also I have erected a wind break on two sides to give them a bit of respite. This has also had the added benefit of helping reduce water loss. I will increase the wind breaks this year to surround the whole of the top plot which is far more exposed than the bottom plot.
All the sweet corn has now be transplanted out from their starting point in root trainers in the heated greenhouse at home. Their first staging point was a cold frame and them outside for a few days prior to transplanting. There are two blocks, one on each plot. One block of swift: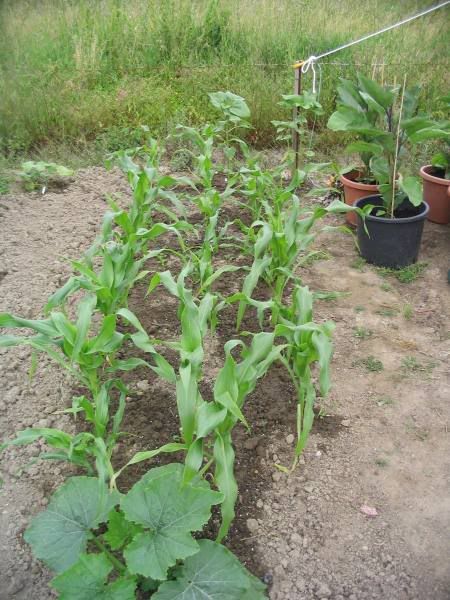 And one block of Northern Extra Early Sweet: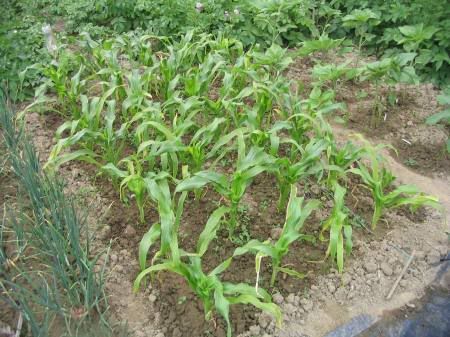 Hoping fro a good crop to store in the freezer for a taste of summer in the depths of winter.
Other crops destined for the freezer are peas (sowed in lengths of gutter), which we have just started to pick: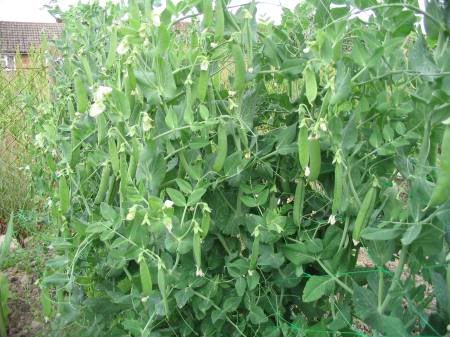 Runner and Barllotti beans:
Broad Beans: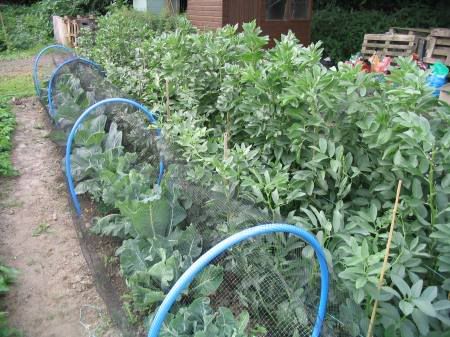 Under the netting infront of the beans are the caulis that are just about ready and a new cabbage, Kalixy, that is meant to be club root tolerant. So far it seems fine but is a long way from hearting up just yet.
All my roots are in one area this year, carrots under fleece and parsnips out in the open. The fleece stays on until harvest to beat carrot fly and it does give a better growing environment.
Spuds, well this year there are 5 on the go.
First earlies are Mimi and Foremost. Foremost is ready and we had the first crop at the weekend. Mimi are a few weeks away but the two combined will see us through a good few weeks into August I hope.
To follow are Second Earlies are Marfona and Kestrel with late main crops being Aran Victory and Ratte. These should see us through well into next year and mean we wont buy any spuds for nearly 3 years.
The real summer crops such as Courgette:
and Lettuce:
are also well under way. I grew a few types of courgette, Romanesco, Parthenon and Defender, leaving so to mature into marrows for stuffing in the autumn. For lettuce I grow hearting varieties such as 4 Seasons, Little Gem and Sherwood, along with loose leaf and oriental leaf lettuce mixes.
So at the moment it is pretty busy weeding, watering and now harvesting. Podding peas and beans always takes a bit of effort but is helped along with a glass of wine by my side while sat out in the garden.
Also I still have to construct more pipe hoops for supporting the pigeon netting over the remaining brassicas to be planted out and spraying for blight will have to start soon if the forecast holds true.
But even though there always seems something to do it is hugely rewarding and great to be eating so much home grown food.
Fingers crossed for a warm summer with rain at times!