Bank holiday weekend and it rained……….
But that was good as we need a drop of rain and it decided to rain mainly at night so that did not stop play too much!
My daily routine at the moment is to visit the allotment first thing every day to open the flap on the plastic greenhouse to prevent things getting cooked in the day when I am at work. I also remove the fleece from the tender stuff that I covered the night before in case of a cold bite to the night air.
The greenhouse is now pretty full.
There are 4 large tubs of early spuds: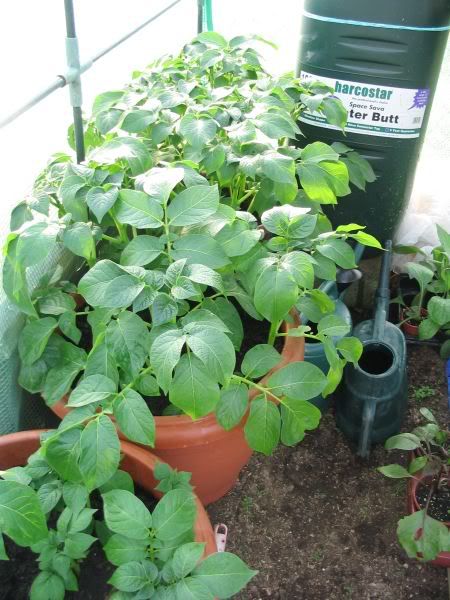 The benching is covered with Dahlia plants: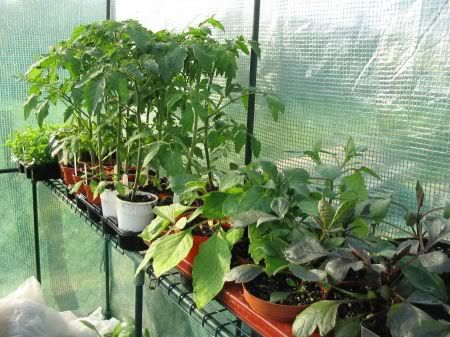 And I have risked a few tomatoes ready to go into the boarder of the house before the end of the month: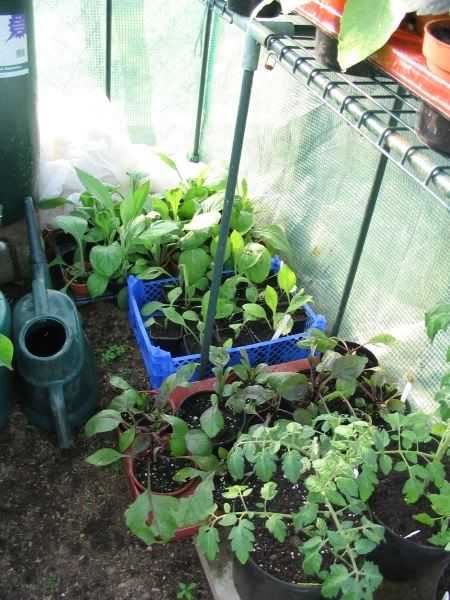 On the floor I also have more dahlias, rudbeckia and toms.
So Saturday morning saw be there to check things were OK and I then quickly mowed my paths and did the edging. A quick run around with the hoe in the onion and garlic bed and a check on the spuds showed my first and second earlies are just poking up.
Then back home to do some work in the main greenhouse, potting up, pricking out and making up hanging baskets!
Sunday night it rained off and on for a few hours and but my new water butts and guttering to the test, pleased to see Sunday morning that they have collected a few gallons of water from only a small roof space. I would like them to be full come the end of this month if at all possible. At the moment I am moving all spare water to the butt inside the greenhouse to help it act as a heat sump for the cooler nights.
I then harvested a few leeks and rhubarb for that evenings meal. I had planned to get in a row or two of parsnips and carrots but the soil was too wet really so I consoled myself with erecting a fleece tunnel over the first sowing of carrots made a week ago.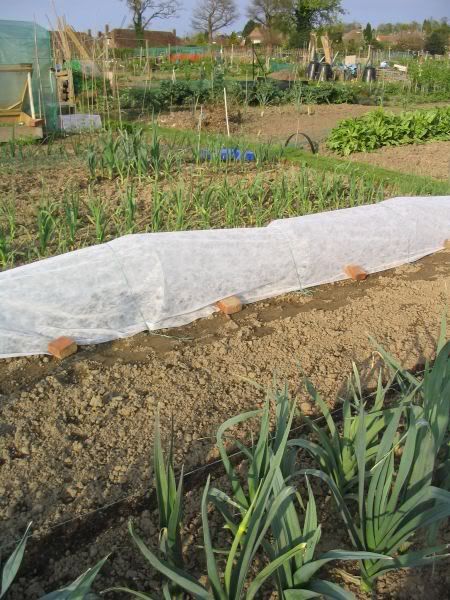 The back home again to the greenhouse and planting up some tomatoes into their grow bags. Thanks to a member on the Allotments 4 All website, thank you Tim, you will see I am trying an unconventional approach. I have cut the bags in two and then stood each half on it's end and planted the tomato into the bag. This has allowed me to plant them very deep and has given them a good mass of compost to get their roots into. Will be interesting to see how they do, I have high hopes!!!
(Photo to follow)
Monday was a day on little gardening, though I did potter around a bit here and there, the main event of the day was taking the family to the Amberley Working Museum for a great and fascinating day out, having to explain how to use an old rotary phone was a surreal experience and demonstrated just how far and how fast technology is moving!!!!!