First Harvest
Well we have now had the first produce from this new plot, just a simple lettuce, 4 Seasons, but very nice it was too. We are also picking a few sprays of Sweet Williams that had been left by the previous owner of the site.
4 season in the middle of the three: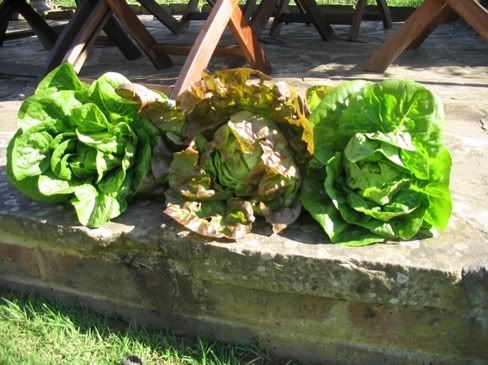 The weather over the last few weeks has been dominated by a lack of rain and a constant drying wind. This has required lots of attention with the watering can as no hose watering is allowed in our site.
The stand pipe and bath are around 100 yards from the plot so I have installed a water butt beside my shed to act as a resevoir closer to hand. We are allowed to use a hose to fill this luckily. With time I will also rig up guttering on the shed to collect water when it rains.
On the planting front I have added more french beans to suppliment those that were attacked by the pigeons. I have also re sown some Benjamin's peas as the mice got most of the first sowing. Next year I will soak in parafin to help reduce the problem. This week I aim to get the final brassicas in the ground and some giant asters that I have sown for cut flowers. This will see the plot full though I will sneak in some lettuce and spring onions here and there.
That will then free up a little time to work on the shed, it needs a coat of preservative as well as guttering, and to make sure I keep ontop of the weeds. So far, touch wood, few have sown thier heads as yet.
I will be posting new pictures soon I promise